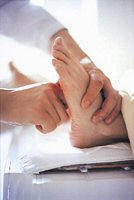 Say "Happy Feet" and the average American will conjure images of cute dancing penguins on arctic ice. But say "happy feet" to Asian Americans and they will tell you that Chinese reflexology is the best way to make your feet smile and thank you for one hour of affordable pampering.
The San Gabriel Valley is laced with foot reflexology shops, modestly simple spaces where the workers speak Chinese-only and take pride in making clients squirm in their chair. My friend Erin tipped me off to her favorite place and gave me a complete run down of what to expect during my first visit. She and a friend drove up and down the streets of San Gabriel scanning all of the neon feet signs (yeah, you know the one) hanging from the store front windows, and phoning each location to identify the best prices. She recommends
Happy Feet
on Valley Boulevard for 1 hour feet massages ($15) and 1 hour full body massages ($40). I've returned to Happy Feet several times and have tried both services. What I can say for sure, is that these ladies put all of their might and energy into their trade. You won't come home disappointed.
During my first visit, my mom treated my sister-and-law and I to a foot massage. The three of
us sat in a private room filled with 4 electronic massage chairs. The masseuses sat on a stool in front of us, soaking our feet in the warm bubble water while they pounded and kneeded our necks and upper backs for the first 15 minutes. (And by "pound", I do mean pound!) I was in "good pain" and my neck tension was relieved.
The rest of the hour was dedicated to massaging our feet and lower legs while we sipped on hot tea and watched them rub different parts of our feet. One thing I found curiously interesting was that my massuse spent a considerable amount of time massaging the area just below my ankle the bone--a good third of the hour. I wondered why she focused so much attention here but didn't understand the explanation given to me in Chinese. I opted to find a foot reflexology chart in a window from a near-by competitor, and found that the area of concentration is actually associated with 'ovaries.' Wow, could she really tell that I have irregular menstrual cycle just by rubbing my feet?
On a couple occasions I was left with bruises on my arms, legs and backs. Although the massage felt good, perhaps the bruises hint that the pressure either is too hard or that the workers are poorly trained. During my full body massage this past June, the masseuse wanted me to add on another hour. She proposed to walk on my back using the balancing pole built into the ceiling. I might have been curious enough to try this circus act...had I not been so concerned about the sanitization of the table I was lying on. When I initially walked into the room I found that the massage table was lined with towels--damp towels to be certain. As a frequent spa-goer I didn't know how to make sense of this. Were the towels suposed to be wet? Was it moist with water...or absorbed with someone else's sweat? Knowing the SGV, my guess was that it was the latter and I tried as best as I could to block out these suspicious thoughts. "Just enjoy the massage" I had to remind myself.
One place that I would personally recommend for foot reflexology treatments is the venue in the
Hilton Hotel
located just a block away. Foot massages are $25 and come with an all day pass to the hotel's fitness center and pool. On my tour I found the space to be more clean and aesthetically pleasing, and the workers spoke conversational English.
Wherever you go, these massages will definitely leave you, and your feet, very very happy indeed!
Where It's At

Happy Foot (now under a new name)
327 E Valley Blvd, San Gabriel, CA 91776
(near Del Mar across from the yellow Howard's Electronics store)
626.569.9069

Hilton Hotel, San Gabriel Valley
215 W Valley Blvd, San Gabriel CA 91776
(top floor across from the athletic room)
626.943.1900


Shout out to "e" for sharing her Happy Feet find.