Because of the warm undertones of her line,
Bobbi Brown
makeup works well for Asian Americans, Latinos and African Americans.
Other than
Perscriptives
which was the first to specifically create a line taking women of color into account,
Bobbi Brown
is one of the few other make up counters whose line targets this niche.
She works with pallets of neutrals on with yellow and brown undertones, making her line great for the natural everyday look.
For this reason I find that I'm a sucker for Bobbi Brown eye shadows, lips sticks, glosses and lip liners (I stick to Shiseido for my skin care regimen). At the Outlets, I've purchased the Bobbi Brown brush holder, eye shadow stand, travel cases, and make up bags. And unlike other make up counters, Bobbi Brown rarely gives away "gifts with purchase." However, around early November in preparation for Christmas, Nordstrom and Saks 5th Aveune will often offer a special "gift with purchase" giving away unpopular eye shadow, lipstick, lip gloss or blush colors that didn't do so well in the previous years' sales. Oh well, some 'unwanted' items are better than nothing. (I keep them handy in my car console for make up emergencies.)
Smokey Eyes
The other week while shopping with Selina, I asked my favorite make up artist, Chie, at the Ala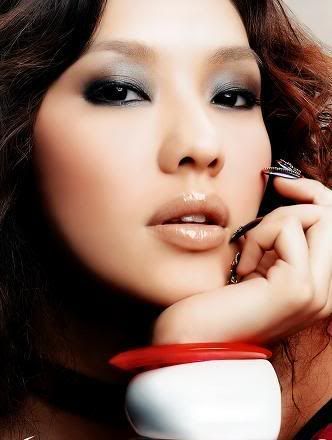 Moana Nordstroms to experiment on my eyes. She gave a smokey-eye look that was great for a casual evening without seeming over dramatic. It's a look that is easy to apply and will leave you looking like your normal you. She said that the look works well on Asians.
Here's what she did (different than the image on the right):
- Cover entire eyelid with "Bone" powder eye shadow

- Apply "Galaxy" shimmer gray crème shadow to the crease of the eye socket
- Create a deeper contrast with "Saddle" powder shadow applying to the natural eye fold
- Finally, define the eye with the crème eyeliner "Indigo", a midnight blue
Other extras:
- Fill in the eyebrow with "Slate", a natural looking brow color (better than black or dark brown)

- Apply "Eye Brigthener" (shade 'medium to dark' for me) around the under eye
- And use a pinker shade blush and lipstick to contrast the dark eye colors

Chie has a knack for recommending good eye color shades for Asian eyes. And she does a great job in make-up application as well—not too dramatic, always natural, and she has never recommended something I didn't like. (I'd take her suggestions for blushes lightly though--her color choices and applications are too Japanesey for me).
Shout out to Selina for whom we pranced around the mall looking for MAC make up brushes, Channel mascara, Shisedo facial products, and Bobbi Brown concealor...all inspired by the previous week's "spa day"with the church gals. (Heard it was a blast!)